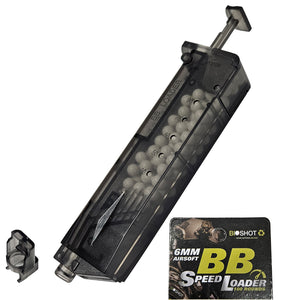 Dominate The Airsoft Field With Quick And Efficient Magazine Loading - Don't let slow reloading hold you back any longer. Give yourself the advantage you deserve and dominate the air soft field with a reliable and efficient speed loader. Your airsoft game will never be the same, and you'll wonder how you ever played without one.

Compact Size So You Can Stay Agile and Prepared - The 100-round capacity strikes the perfect balance between efficiency and portability. In the dynamic environment of airsoft gameplay, being able to move quickly and efficiently is crucial for success. That's why having a compact and durable speed loader that easily fits in your magazine pouch is essential for any serious airsoft player.

Seamless Compatibility Between All Your Airsoft Gun Models - Effortlessly switch between different airsoft guns without having to invest in multiple speed loaders, saving you both time and money.